I have decided, although it breaks my heart to do it, to give away the ball-that-does-nothing as a prize.
Here is a photo of me when I was a tiny puppy .I was named after Simba the lion king, because the Tibetans called the Apso, "ApsoSeng Kyi" or "Apso Lion Dog." So to win the ball-that-does-nothing and tasty raw hide chews......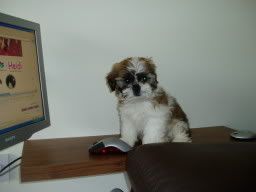 If you could have picked a name for me then, what would you have called me and why?

The winner will receive tasty raw hide chews as well as the ball-that-does-nothing. Please enter as its the only way I am going to get rid of this stupid toy. Some of you may even like it.
Fat fat Daddy will pick the winner and the winning name will be announced at the end of next week.
Simba x